Front Office/Front Foyer
As you walk through the front doors you arrive at our front office and spacious foyer where our lovely office staff will greet you.
School Corridors
Our school is set up in coloured corridors:
Blue - Kindergarten, EAL/D
Green - Years 1 and 2
Red – Years 5 and 6 and includes access to the performing arts space
Purple – Years 3 and 4 as well as French
Alternate Learning Spaces
At Majura Primary we are very lucky to have various alternative learning spaces for students:
Early Childhood Play Space
which is available for students K – 2 during lunch time to scaffold social skills and cooperation.
Outdoor Learning Space
Student Support Space
Library
Hall
Teacher Resource Room
When teachers are not busy working in the classroom, we have a dedicated professional learning and work space filled with resources needed for planning. At Majura Primary we provide time for teachers to be released off class together to provide time for planning and conversations around curriculum implementation and assessment, providing consistency and enhancing communication.
Our Playground
Early Childhood Playscape
This space Includes tepee, stumps, tress and rocks for climbing and imaginative play.
Main Playground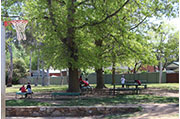 Located to the west side of the buildings this space Includes equipment, basketball court, grassed area, seating space underneath the trees, benches near the classrooms and a wide grassed area.
Irvine Playground
Located to the north side of the buildings this playground space includes a large grassed area, sandpit, handball courts and equipment to climb on.
Oval
This is a shared public space but allows space for large ball sports and includes cricket pitches.
Courtyard
A tranquil space for students to relax in the sun; includes herbs from the garden, concrete seating, oversized chess board, canteen, and quiet seating spaces.